Are you hoping to read someone's text message without their knowledge? As you may have already found out, it's not an easy thing to do. Most people are very protective of their phones and even when they leave them lying carelessly around, chances are that they'll protect their phones with a secret passcode. So what do you do to bypass the security measure? Read on to find out how to read text messages from another phone without them knowing.
The Best Way to Intercept Text Messages on Another Phone
There are several ways to track text messages from another phone. But none is as effective or easy as using spy apps. They are softwares that can help you track people's phones without their knowledge.
To get started, you need to install the spy app on the phone you wish to track. Once it's successfully installed, you can easily track both sent and received messages on the phone. You'll also be able to read the person's WhatsApp chats, Snapchat messages, and Instagram messages.
You can also see their mails, Messenger, and track their calls. It gets better. If you wish to know more than what you find in a person's text message, you can also track their location using the GPS location feature on spy apps. Many spy apps come with a keylogger feature. This allows you to record keystrokes on the target's phone. This means you can harvest the person's login details on different websites.
Other less effective but decent methods to spy on someone's text messages include:
Snoop When They're not Looking: You've probably done this before. 5 of every 10 people you'll meet on the street will tell you they've snooped on their partner at one point or the other. While this can be dangerous and the chances of being caught are high, it's worked for many people in the past.
If you want to snoop, it's important to do it right. If your partner has a security passcode to unlock their phone, do a little recon to find out what it is. When you're sure, simply wait for your partner to fall asleep and you can quickly go ahead to go through their phone and read the text messages.
If your partner suspects you don't trust them, there's a good chance they'll quickly delete incriminating texts on their phone. Hence, this method is not very reliable.
Clone Your Partner's Phone: You may have seen this before in the movies, but it's a legit option in real life too. To get this to work, you need the phone you want to clone and the new phone you wish to make into a clone. Find your phone and the target phone's secret menu key to unlock both phones.
You can find websites online that will help you find this key. From the menu, find your electronic serial number(ESN). Write down the number and exit the menu. When you get the ESN of the target phone, open the menu on the clone phone and replace its ESN with the target phone's ESN. You'll need the phone's unique code to perform this operation. Several hacking sites will help you do this as well.
How to Read Someone's Text Messages without Their Phones Using Spy Apps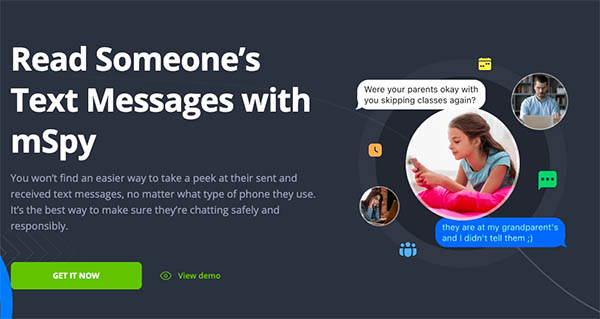 To intercept text messages from another phone using spy apps, there are a few steps to follow. In this section, I'll walk you through how to spy on someone's text messages using mSpy. mSpy is one of the best spy apps on the market with lots of useful features to track people's phones. Here's how to spy on text messages with mSpy:
Step 1. Create an account on mSpy: The first step is to create an mSpy account. To do that, you need to register on the mSpy website. You'll be required to submit your email account and choose the device you wish to spy on.
Step 2. Choose your plan: After choosing the device you want to spy on, the next step is to choose your preferred subscription plan. After choosing a plan, you'll need to provide your credit card details to pay for the plan.
Step 3. Start monitoring: After paying for the plan, you'll receive an email containing the app's download link and instructions on how to install it. Once the app has been installed, you will be able to monitor the person's text messages on mSpy's control panel on your device.
Top 5 Apps to Track Text Messages from Another Phone 
Alongside mSpy, other great spy apps can help you track text messages from another phone. Here are the best of the bunch:
mSpy
SpyBubble
Spyera
uMobix
iSpyoo
Final Thoughts 
While you can always bank on a spy app working on Android phones, it's not always the same with iPhones. This is because many iPhones don't support installing spy apps. If your target is using an iPhone, you need to find how to read someone's text messages without their phone. 
Luckily, you'll find a few spy apps that can monitor iPhones using the owner's iCloud credentials. This lets you monitor the target's text messages without touching the phone. Lastly, spy apps aren't free. They cost money. However, considering their effectiveness, spending a couple of bucks on a good spy app is money well spent.